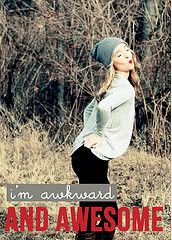 Awkward:
-My new obsession with Candy Crush Saga. My reading is suffering from it.
-We're moving in a little more than a week and we haven't packed any boxes.
-It's taken me about five days to finish this post.
Awesome:
-We finally saw Skyfall the other night. Best Bond movie I've seen in a while.
-The
new ramen place
near our house is excellent. I'm hoping to do a post on it one day.
-We're going to Cirque du Soleil tonight!
What's been awesome and awkward this week for you?